How tragic is it that we have this intelligent, capable woman who is out there kicking some diplomacy ass, and yet all our news media can do back in the States is find a way to cram everything she does into predetermined patriarchy-approved narratives?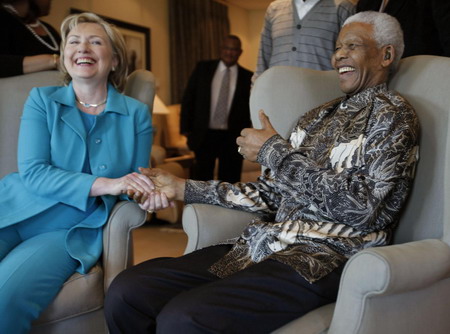 Secretary Hillary Clinton has been traveling throughout Africa as part of her effort to engage various governments to search for solutions to problems like mass
rape as a tool of war in the Congo,
widespread corruption in Nigeria, near-anarchy in Somalia. You know, minor, inconsequential things like that. (Nothing compared to the latest update in the Saga of Jon-and-Kate, I know.)
But back here in the States, you'd think that all she was doing was yelling at hapless Congolese men and having a meltdown over her husband's diplomatic mission to North Korea. Oh, and if former
New Yorker
* editor Tina Brown is correct, she's flapping her batwings and rumbling her thunder thighs all over the continent while she does so.
(Jezebel has the video.)
My first inkling that something was up came on Monday, when this story popped on the AP wire at work:
Clinton snaps at Congolese student who inquires about husband's views

KINSHASA, Congo (AP) - Secretary of State Hillary Rodham Clinton is happy to answer questions about her own views on world affairs, just don't ask her what her husband thinks.

Clinton's temper flared at a town hall forum in Congo's capital Kinshasa today when a male university student asked what "Mr. Clinton" thought of World Bank concerns about a multi-billion-dollar Chinese loan offer to the Congo.

Her reply was incredulous: "You want me to tell you what my husband thinks?"

Before the moderator quickly moved on to other questions, Clinton told the young man: "If you want my opinion, I will tell you my opinion. I am not going to be channeling my husband."
Talk about some loaded language. I understand that the reporter was simply trying to put a bit of flair into the story, but "temper flared?" "Incredulous?" My beginning reporting professor would have docked me a bazillion points for subjective language, then humiliated me in front of my class, and rightfully so.
Besides, wasn't she right to get upset? Let's look at this in a wider context. She has traveled to a country whose women and children (and some men, too) have been
subjected to horrific rape
by militias, armies and even UN peacekeepers.
Then as if that isn't bad enough, those women are then shunned from their communities and their villages for the egregious sin of having been raped. Obviously we are not dealing with the most woman-friendly culture here.**
So Clinton, who is one of the most powerful women in the world, comes to this country to speak about the problem this country has with rape, and one of the audience members asks what her husband thinks.
It would be as though someone calls my job with a question, but then asks if they can speak to my husband instead. My expertise on the subject does not matter, because I cannot
possibly
know what I am talking about, because I own a vagina, and everyone knows that my vagina is really just a black hole where my brain should have been.
But that wasn't even the best part of the story:
The question comes a week after former President Bill Clinton stole the limelight from the start of his wife's first trip to Africa when he traveled to North Korea to secure the release of two detained American journalists.
He
stole the limelight
? Says who? And how do we know Secretary Clinton wasn't involved in this? Does the writer of this story really think that she had absolutely no involvement with sending President Clinton over? Or does the writer just think that he jaunted over on a private jet on a whim?***
The Hillary vs. Bill narrative, the one that constantly pits them against each other, is so old, so tiresome, so 1995. It's evidence of a cultural mindset that cannot look at a married couple and see equals. No, surely there
must
be a power struggle going on! Someone
must
be in charge! Someone
has
to dominate! Either Bill has to be resentful of Hillary's success, or she has to be resentful of him. And who cares if we have no evidence to back that up? We'll just grab stills from video and use it to illustrate our carefully constructed storyline!
So now we have Secretary Clinton pegged as as a volatile harpy shrew who wants to castrate her husband. But thanks to Tina Brown, we can also remember that she's FAT, too. Because, you know, it's not enough that she's working tirelessly to empower women around the globe. No, she needs to get her FAT ASS back in the gym and do some leg lifts, because everyone knows that only thin women are smart, or smart women are thin. (Or maybe it was that women can only be thin or smart, or beautiful or smart, but never both. Oh, I give up.)
At this point, I've spent my entire adult life watching the nation project its anxieties and frustrations over gender roles, sexuality and power onto the Clintons. And as they continue to maintain a high profile, it only seems to get worse. As the always-awesome Judith Warner puts it, the important work Clinton is doing is on the verge of drowning in a
"tide of trivialization."
Media people of the world, I beg of you, give it a rest. We've got more important things to do than speculate over whether or not Bill stole Hillary's thunder and criticizing her for spending more time researching global issues than hitting the cardio machines.
Resources
Congo's Rape Epidemic Worsens During U.S.-Backed Military Operation [
Washington Post
]
Congo: Confronting rape as a weapon of war [
Christian Science Monitor
]
Hillary Clinton's Africa trip signals new U.S. commitment to Somalia [
L.A. Times
]
Clinton heads to Liberia to show women power [
AFP
]
Tina Brown Style 'Tide of Trivialization' Threatens to Swamp Clinton Trip [
Jezebel
]
Domestic Disturbances: Hillary Fights A Tide of Trivialization [
NYTimes
]
Endnotes
* I've been reading
The New Yorker
for about eight months now, and I need someone to explain to me how Tina Brown was ever the editor of that magazine. She seems to me like the Bonnie Fuller of the New York media set - she's savvy, sure, but she focuses all of that brain power on appealing to the lowest common denominator. What gives?
** I don't think the Congo is unique in this regard. Not even close. I'm just referring to it specifically because that is what the story is about.
*** Clearly I am not the only one who thought this story was a stinking pile of whale excretia. I tried to search for it but came up blank. Thank god for that. Honestly, Associated Press, you have some wonderful people doing some really fabulous reporting, but you muck it up with stories like that.